Windows & Doors Installation & Service review in Ottawa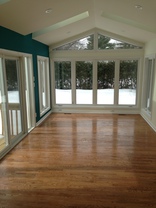 Bestcan
613 226 7611
17 Antares Drive
Ottawa
ON
K2E 7Y9
CANADA
With the GreenOn program, we started to look for a company to replace 5 old wood-frame windows (kitchen, living room, and basement). Out of three companies, we chose BestCan. One of the big Windows companies that we dealt with before told us that we needed to wait for many weeks to get someone to come over and give a quote. BestCan people came within three days.
Roy gave me a quote and explained everything in details. He has decades of experience and obviously knows what he is talking about. Within the time frame we agreed upon earlier, the installation team came to install
the windows. The team was consist of three gentlemen. They were professional, polite, and they attended to details. After the job was done, the team lead showed me how to use everything and how to care for the windows. And they cleaned up nicely before left.
I would also like to thank Roy and BestCan for great communications. No questions were left unanswered and no calls were not returned.
Very glad to support a local business and happy to recommend this company to anyone.