Garage Doors & Hardware review in Toronto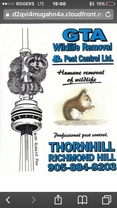 Gta Wildlife Removal And Pest Control
905-884-9203
Serving the GTA
ON
M6P1W4
CANADA
A raccoon got stuck in my garage and hid in one of the corners for a few days before chewing his way out. I called Troy to investigate whether the raccoon was still there and to get him out if so.
The raccoon wasn't there any more but Troy was able to identify the places where the raccoon tried to exit (and where it eventually succeeded). He installed a one-way door to give the raccoon an exit (without an entrance) if it ever got back in, and also pointed out all the places that we should try to barricade so it wouldn't get back in. A few months later, Troy returned to replace the one-way door with the soffit that had been pushed out and also took the time to check whether the raccoon had gotten back in at any point.
Troy was very warm, informative, and helpful. He was also very professional and well-prepared. Thanks Troy!
Company Response

Thanks so much for taking the time to write a review, there's already not enough time in a day. It's our pleasure to work for you.:)