Pest & Animal Control review in Toronto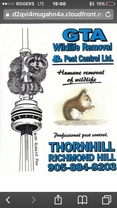 Gta Wildlife Removal And Pest Control
905-884-9203
Serving the GTA
ON
M6P1W4
CANADA
I've used Troy about 8 years ago for mice and never had a problem since. But the mice came back & today I feel very confident they'll be gone.
Troy is very approachable & friendly. He checked out the garage, vents, attic & the basement & put some mice boxes around.
I feel confident I won't have to call him back in 3 weeks. He is knowledgeable & explains in depth what he'll do & why.
For any rodent problem, I'd recommend GTA Wildlife Removal.
1 of 1 people found this review helpful.
Company Response

Troy is great! Remember no matter what any pest control company tells you mice cannot be blocked. Its just not true. However unprofessional companies mislead the public,"we block your holes" Fraudulent lies to confuse customers motivating them to buy or purchase unnecessary services. Trust GTA. Thanks for the review. Big Kev