Drywall Contractors review in Toronto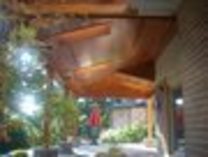 Remodel Construction Company
416-757-4107
Toronto
ON
M5R 2E2
CANADA
For (at least!) the third time, my husband and I turned to Chris and his team to help with a renovation project in our home. Once again, we were left thrilled with the results.
Chris is a delight to work with, showing up on time when he makes appointments, providing accurate and fair itemized quotes and giving useful, practical advice that accommodates for different budgets. In this case, he and his team stepped in to fix our basement's botched drywall job (note: there are certain things you should always leave up to the pros and drywalling is one of them!), repaired and trimmed six doors in advance of carpet being installed and installed over 100 linear feet of new baseboards. The space looks great and we'll definitely be trusting Remodel again with future jobs. Chris, Tim and Dexter are superstars who I can't recommend enough!
Company Response

We are pleased that you are thrilled with your transformed basement and want to thank you for your repeat business. After many years in the construction business we have come to know what our customers expect of our company. Clients want us to show up on time, provide accurate and detailed quotes and to be open to listeneng to their requests and providing alternative and practical solutions. When we start your project we are there every day until your project is completed.

We look forward to working for you again in the future.

Chris and all the team at Remodel Construction Co.