Toronto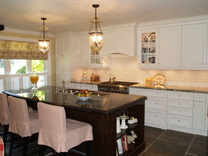 Clareville Distinctive Kitchens
905-494-0894
253 Summerlea Road
Brampton
ON
L6T 5A8
CANADA
I'll keep this short and to the point. With all the extra details and distress that I went through - I could've easily made this review very lengthy.
My wife and I contacted Clareville Distinctive Kitchens and Baths at the start of summer with the intention of doing a complete Kitchen renovation. We spent most of June interviewing Luke, visiting his Brampton showroom, and going over design details.
We were initially impressed by his commitment to the sales process. While visiting the Brampton showroom, he also provided details for payment options - he tried to highlight and incentivize bigger discounts if we gave a deposit of 90%. At first suspicious, we did not agree to this. But eventually we did (foolishly on our part thinking about it afterwards) agree to a 50% deposit and hired Luke at the start of July to construct and install the kitchen cabinets.
After the deposit cheque been cashed we then found ourselves REPEATEDLY asking to specify the start date and finish dates of the project. This dragged on for weeks. There was one excuse after another on the start date, commencement of project, etc. Without going into more details, we immediately lost full trust in dealing with Luke.
Knowing nothing had been started, we had asked for our deposit back on August 23, 2018. Luke had led us to believe that he is discussing reimbursement of the deposit with his staff and would need a formal letter of cancellation in order to proceed - this letter was provided. However, unbeknown to me, he was negotiating a sale of the business and this was not communicated until mid September. After numerous attempts to contact Luke and lawyer for Clareville since mid September - there has been no response to date and we have not received our substantial deposit back.
1 of 2 people found this review helpful.