Pest & Animal Control review in Richmond Hill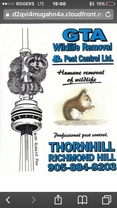 Gta Wildlife Removal And Pest Control
905-884-9203
Serving the GTA
ON
M6P1W4
CANADA
We had a problem with mice in the house. When we were unable to solve for this problem on our own, we called for help. I called Kevin and he was able to come within 48 hours of my call. Within days of his visit, it looked like the problem was under control. Kevin returned again about a month later to check to see if the mice were gone. He said he would come back and check in once again in another months time just to be certain. We are happy with the outcome and Kevin's subsequent visits to ensure the mice have not returned. Thanks Kevin, appreciate your work in this matter.
1 of 1 people found this review helpful.
Company Response

Thanks very much: With pest control you don't buy just a product you purchase a service. Transparency responsibility Trust. No one can fix rodents by blocking holes. thanks again. We will fix the problem.