Pest & Animal Control review in Markham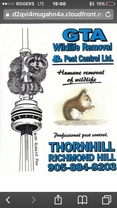 GTA Wildlife Removal And Pest Control
905-884-9203
Serving the GTA
ON
M6P1W4
CANADA
Troy at GTA Wildlife Removal is absolutely amazing! He took the time on the phone call to reassure me that this was an easy job and all we needed was a one way door trap. I live in a semi and we weren't sure where the squirrels were coming in from but he advised he treats this as one job, not 2 as other company's did. Once I got off the phone with him I was at ease and knew I was in good hands.
When he arrived he explained everything he was doing, he was fast, clean and ensured all screens were spray painted to match our eavestrough color.
He is not about making money and selling you stuff you don't need. He does what is necessary to ensure you will not have the issue again. He advised the issue was my neighbours roof and he needed to put the trap door and secure another corner on their eavestrough. Our squirrels were gone the same day as the trap door was put in our neighbours roof. We opted to secure our eavestrough and add a screen box for our dryer vent - all stuff he said was not necessary and recommended we don't spend our money. Who does that? He is an honest guy and will assist you with all of your pest needs.
I joked I hope I never have to use him again for pest issues, but he is definitely the person I will use if we need to and I have already recommended him to many friends. Thank you Troy for all of your help and allowing us to sleep in peace again. The cost was $750 total for the trapdoor; 3 eavestrough corners secured plus one dryer vent door.
Company Response

Wow!!! What an awesome review thank you so much!!
We are here anytime you need us, The key is to just be good to people in life, and it all comes back to you. Thx Troy:)