Pest & Animal Control review in Toronto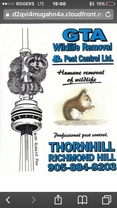 GTA Wildlife Removal And Pest Control
905-884-9203
Serving the GTA
ON
M6P1W4
CANADA
Troy was very helpful - I appreciated his thorough and honest assessment. He went above and beyond.
I had initially gone with another pest control company but I had a bad feeling they were trying to rip me off. This other company was trying to sell me a bunch of services I did not need. For example, they claimed the house was infested with mice (this was a surprise because I had not seen evidence of mice). They also claimed my attic needed "disinfection" and that they were the guys to do it (they offered to spray some chemical on the insulation). So I called Troy for a second opinion. Troy was very thorough and explained the real issues to me. It did feel like Troy was on my side, whereas that other company just wanted to sell me stuff I did not need.
Thanks to GTA Wildlife Removal & Pest Control. Highly recommend them.
Company Response

Thanks so much!! We definitely want Custumer's, not one time jobs.:) Trust is the key.