Pest & Animal Control review in Richmond Hill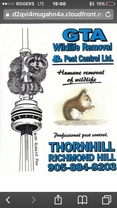 GTA Wildlife Removal and Pest Control
905-884-9203
Serving the GTA
ON
M6P1W4
CANADA
Troy did a great job explaining the problem (raccoons were in our attic but got in through a neighboring townhome) and removing the babies. Troy explained how the mother raccoon might try to get back in if the babies weren't left for her to find.
I would recommend Troy without hesitation in the future.
1 of 1 people found this review helpful.
Company Response

Thanks for the review!! Hopefully you won't have to deal with animals in your roof again.:)