Ajax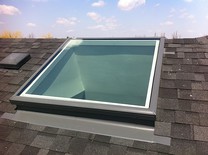 Moore Skylights Inc.
647-618-0242
We love our new sun tunnels.
We were looking to enhance natural light in our stairway and Jeff advised us to install sun tunnels. The whole process was very professional and stress-free. Jeff took the time to answer all of our queries and doubts. During installation, he paid a lot of attention to detail and the entire job was done in 4-5 hours.
We highly recommend Moore Skylights Inc.
Company Response

Juhi,

I am very happy to hear that your enjoying all that natural light added to your home. It truly is amazing how much sunlight you can get from those VELUX sun tunnels. It was a pleasure to be your installer for the Ajax area. Thank you very much for the great review. All the best and thank you again for choosing Moore Skylights Inc.

Jeff Moore - Moore Skylights Inc.