Landscape Contractors & Designers review in Vaughan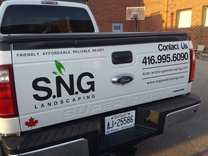 S.N.G Landscaping
416.995.6090
164 Dufferin Hill Dr
Vaughan
ON
L4K
CANADA
To the S.N.G landscaping team,
Thank you for transforming my front and back yards. The guys worked diligently and efficiently. They took care of the weeds in the back yard as well as mowed our lawn to the highest professional degree.
As well, they cleaned and trimmed our flower beds and spread black mulch to aesthetically reshape the look of our house.
Overall, the team delivered exactly what was asked of and beyond.
Thank you again Gabriel and we are looking forward to work with you this winter season and of course in the future.
Greg.
1 of 1 people found this review helpful.
Company Response

Hi Greg,
Thank you very much for your review
We do our best for our customers.
It's a pleasure working with you
See you soon ❄❄❄
Gab