Bathroom Renovation review in Whitby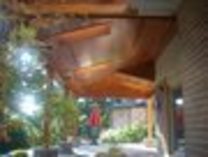 Remodel Construction Company
416-757-4107
Toronto
ON
M5R 2E2
CANADA
We hired Remodel Construction to redo all the plumbing in the new master bathroom. The work included installing the new tub and plumbing for the shower, as well as changing the plumbing from a single sink to a double sink vanity, installing the vessel sinks and faucets. The crew was punctual and the results very professional.
Chris Clark was excellent at following the process every step of the way and answering any questions we had. We would certainly highly recommend Remodel Construction.
Company Response

First off your washroom looks absolutely fantastic you did a great job with the tiling.

We are do glad that you were happy with the service that you received by our team. We believe its important to be punctual on all our jobs and to provide our clients with regular updates as to the progression of the job. Our clients know that we are only an email or phone call away if they have any questions or concerns, communication and being available to our clients is an integral part of running a successful renovation.

It was a pleasure working for you and look forward to working for you again in the future.

Chris and all the team.