Kitchen Planning & Renovation review in Toronto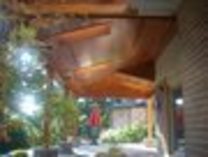 Remodel Construction Company
416-757-4107
Toronto
ON
M5R 2E2
CANADA
Chris and his team were amazing. I had interviewed many contractors before choosing Remodel and I'm so glad I waited. Throughout the project they did what they said they would, when they said they would. Communication with Chris was excellent - he was always available and helpful. Each person Chris brought in was committed to quality work. They offered their advice when asked, but were also respectful of my opinions. They were organized and clean and got me back home as soon as they could. All around an excellent experience.
Company Response

First we would like to say thank you for your business and those delicious home made brownies...lol

We hear it from so many people like yourself that choosing the right contractor is an important part of any renovation. Having worked for one of your family members was a good startgor you as you were able to find out how we operate and how satisfied your family was with their renovation. Reccomendations are an excellent source of referrals.

We pride ourselves on doing what we say in our contract and being on time, providing a construction schedule and being in constant communication with our clients throughout the renovation. Good communication is key to the success of any renovation project because you can solve problems quickly and keep the project on schedule.

Organisation prior to starting any project and during the project is very important to make sure you are able to stay on time and on budget.

Keeping a tidy job site means a safe job site with less injuries, that's why out team cleans our sites daily and it also demonstrates respect for your home too.

Your condominium looks absolutely amazing after the renovation. Opening up the kitchen makes it look like a totally different unit. We hope that you get many years of enjoyment out of your newly renovated home.

Thank you for your business and we look forward to working with you again in the future.

Chris, Dexter, Jay, Tim and the rest of our team.