Mississauga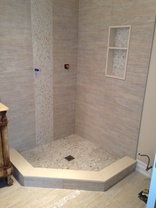 Tilestars
416-825-3359
Mississauga
ON
L4W 4H4
CANADA
From the first time I spoke with Dmitri, I could tell he was a consummate professional. But more importantly, he was someone who genuinely cares. Cares about answering all of your questions. Cares about providing a fair quote. Cares about walking you through the process step by step. Cares about working to your schedule. Cares about the craft and execution he puts into every job. And cares about your full satisfaction. From beginning to end, I had the utmost confidence with Dmitri and his team, and they did not disappoint at all. I was extremely pleased with the job, and on top of that, he finished it in 1 day, rather than the initially projected two.
I highly recommend Dmitri and Tilestars, as they aim to please and won't stop until you're 110% satisfied!
1 of 1 people found this review helpful.