Landscape Contractors & Designers review in Mississauga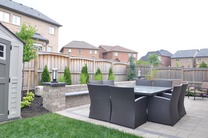 Burl Oak Landscaping
905 399 7934
We found Burl-Oak via Homestars for a driveway renewal and front-porch redo. They were third on the list to call. Only Burl-Oak called back. The first two Homestars "top-rated" reviews talked to us like they were doing us a favour. Their loss.
Mark was on the ball from the start! Promtly called back. Excellent customer experience. Mark was efficient, detailed, precise, friendly, and forthcoming. Managed all expectations. Beth was very polite, and efficient with excellent follow up. And the workmanship of the team in removing, leveling, resurfacing, relaying the new stones is to be seen to be believed. Excellent project management and delivery.
The new driveway is like night and day. It is the neighbours envy on the street. Even slows down the traffic when the cars race to beat the lights. Even the Rinox representative visited the finished product to take photos and assess the workmanship. A nice touch!
Thank you Mark at the entire team at Burl-Oak. Quality all around.
Highly recommended!
1 of 1 people found this review helpful.
Company Response

Thank you Andre for the great review. we always strive to do the best we can and we're happy you appreciate our efforts. look forward to working with you again in the near future.