Electricians review in Toronto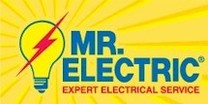 Mr. Electric
416-639-9933
8-335 Admiral Boulevard Unit 8
Mississauga
ON
L5T
CANADA
I am not sure if I completed this review for the first project Mr. Electric completed for me. I have requested the professional help from Mr. Electric now a second time. The first time, Mr. Electric - Adrian - wired and installed a new electrical outlet in my exterior bathroom wall. He worked so hard and diligently with precision, and excellent problem solving skills. After he analyzed and assessed the parameters of this job, which was much trickier than I imagined, he explained what he had to do and the estimated cost prior to launching into the actual installation. I was so grateful for his thorough and knowledgable explanation and for his ensuring that I understood exactly what would be involved. He earned straight A's, top grades on all levels of perfection, promptness, tidiness, and expertise. Thank you Adrian for your service. This second job was completed a few weeks ago. Adrian returned to assess a problem with my kitchen electrical outlets, which he found were burnt-out! He worked extremely hard and diligently again, to attach new outlets to fresh wiring which was difficult as the wiring was behind drywall, and marble. He replaced the outlets and explained to me why they became dangerous. When I moved into this condo I hired an electrician to replace the sockets at that time, so during just a couple of years the outlets had become completely burnt out. Adrian explained the connection issues and how to avoid this happening again. I am so very grateful to him for his thorough assessment of the problem and his explaining to me how to keep the outlets safe. I also greatly appreciate Adrian's explanation, and his knowledge of how the wiring was connected. I am absolutely confident, and fully trusting, and extremely grateful for Adrian's knowledge and expertise. Thank you so very much. Mr. Electric is truly the very best!
Company Response

Hello Ms. Hale,
Thank you for submitting your review of our service. We are glad that our electrician Adrian succeeds in meeting and exceeding your expectations with each visit.
We value great customers like you and look forward to working for you again in the future.