Bathroom Renovation review in Ottawa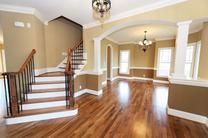 Ottawa General Contractors
(613) 225-9991
1886 Merivale Road, suite 200.
Ottawa
ON
K2G
CANADA
I will start with the bottom line of my thoughts on working with OGC, which is, if asked by a friend, I would recommend them. On the whole it was a positive experience, the bathroom they designed and built for us is tasteful and well-built and they were good to work with and very professional throughout the experience. If you want some more detail I will include it below.
Sales
We started off working with Nick, who did sales and the basic design and needs with us. We had three other quotes as well and, for what it is worth, OGC was the highest bidder. But we were also very impressed with their well laid out and explained process that Nick walked us through.
Design/Materials
We started off working with Tanie, who we felt didn't really want to listen to our wants but did help us design a practical bathroom that will be great for resale. Tanie left the company half way through the design process. She was replaced by Deirdre, who I have to give huge props to. She did an great job taking over without a ton of documentation and really helped steer the design more towards what we were looking for. She also had a lot of really practical suggestions, it was good to work with her.
Build
Michael was our project manager and Edgar of Laverne Home Improvements was the lead/owner of the sub-contractors who did the build. Both were great to work with in their own way. Michael was really good on the communication front and kept us well informed on what was going on. Edgar and his team did their best to work around us and produced a nice finished product without any real major snags. The project was on budget and on time.
Communication
As I mentioned OGC has a great process and were pretty good at communicating with us throughout. If I had one gripe it would be that they often didn't seem to have communicated with each other. For example we had a bit of a miss communication around the bathroom door and everyone said someone else would buy it. It all got sorted out, but probably would have been easier if it was just communicated up front.
Finished product:
Looks really nice, seems to be well built. It was more expensive than we would have hoped but the costs were well inventoried for us and there weren't surprises. Besides a few minor finishing details that didn't get done perfectly (e.g. the grout) the work seems to be of really good quality and it seems like it will last well. We are quite pleased with it all, it really turned out better then expected.
1 of 1 people found this review helpful.