North York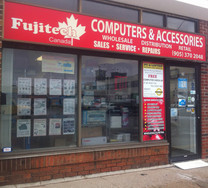 Fujitech Technologies Inc.
(905) 370 2048
180 Steeles Ave. W., Unit 2A
Vaughan
ON
L4J 2L1
CANADA
I was there at 2:00pm today and had to wait for around 30mins as there were 3 customers before me. The guy was very polite and I actually enjoyed waiting for that 30mins as I learned quite a bit of things he was explaining to the other customers.
Had my RAM upgraded instantly and my system worked beautifully.
Clarke,
If you are reading this, you are not obliged to know how or what commands he put in to fix your computer. I overheard you saying you were a techie person and you could not fix your network issue for the past 3days thats why you brought your laptop to him. He did it for you in 5 mins and charged you $10. You should be happy that you don't have to go thru with this problem any longer. Just imagine how much time you have saved.
A big thumbs up from my side.
3 of 3 people found this review helpful.