Insulation review in Ajax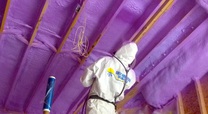 Great Northern Insulation
800-265-1914
I had initially noticed about a 4-5 degree temp difference (colder in the winter and hotter in the summer) on the second floor compared to the main floor.
After further investigating the result was that my attic insulation needed a top up as well as some light fixtures that needed to be air sealed.
My insulation was sitting at a R-20 value. I had the team at Great Northern Insulation top it up to R-50 value with blown in fiberglass.
Everyone involved from calling in to set up a quote, to the estimator, and the install team were great. I found that their prices were fair, the team was on time and cleaned up once completed. They took the time to show me pictures of the completion stages of air sealing the light fixtures, plumbing and air vents.
It has been about a month now since the insulation has been completed. I have noticed a significant difference, the temperature is more consistent throughout the house and my furnace is running less during the colder days.
I would recommend and use them again for any future work.