Landscape Contractors & Designers review in Oshawa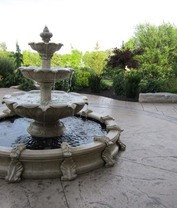 Ontario Concrete Finishing
905-668-7677
23 Wilson House Drive
Whitby
ON
L0B
CANADA
Frank and his crew saved me and my husband from a great deal of heartache. We initially hired two previous contractors which turned out to be a total nightmare!
Frank came in and proposed a completely different view ( much safer for my family) than the others even considered. This team is so professional and the attention to detail is second to none. We watched them work and it totally blew our minds they take zero shortcuts to do anything.
Being a very picky / fussy person myself I sometimes question if we were making the right decision BUT when Frank was done I was totally blown away and cannot wait to have him come back for my other projects.
Trust me....do not go anywhere else. You will pay more with Frank but good things aren't cheap and cheap things aren't good!
Thank you Frank and your team for being the BEST in the industry!
1 of 1 people found this review helpful.
Company Response

Thank you so much for the great review , it was a pleasure to work for you guys.
On behalf of the o.c.f. team we thank you for for everything.
Frank