Heating & Air Conditioning review in Toronto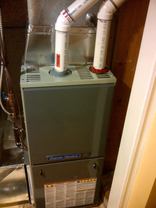 AirHeatingPlus, Ltd.
416-889-6344
Mississauga L4Y 3G2
Mississauga
ON
L4Y 3G2
CANADA
Renato did a great job for us over the holidays. The extreme cold weather caused our old furnace to begin acting up. Renato responded quickly and was at our house within hours to help solve the issue. Eventually I decided it was time to take the furnace off of "life support" and get a new furnace.
Renato helped right-size the job and had his team on site with a brand new furnace within 2 business days. The job took about 4 hours and the team was clean and professional.
In addition, we were given a ton of additional service that we didn't expect, including over the phone instructions on how to solve some heating problems with the old furnace, corrections on some past work that was done in our house, and a rebate form sent in on our behalf.
We're very satisfied customers.
Company Response

Thank you very much