Heating & Air Conditioning review in Toronto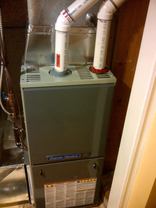 AirHeatingPlus, Ltd.
416-889-6344
Mississauga L4Y 3G2
Mississauga
ON
L4Y 3G2
CANADA
Woke up one morning, no heat! Called Air Heating Plus to come diagnose the issue, Renato gets it back to working, but gives me a heads up that my furnace is probably on its last legs and probably only has a couple years left, and awesomely gives me a rough estimate of what kind of price a replacement furnace would be, and what king of operation would happen, but without any kind of pressure.
Fast forward 2 years later, furnace starts being unreliable, so I call Renato back, he confirms it at the end of its life, goes over the options, gives me some pros and cons, addresses my concerns, and the next morning before i can start making coffee, he's installing my new furnace. -- Thanks Renato!
1 of 1 people found this review helpful.
Company Response

Thank you again for nice review