Window & Gutter Cleaning review in Toronto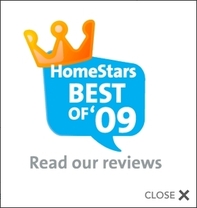 Toronto Clear View Window Cleaning, Inc.
416-751-5546
I decided to give this company a try after reading numerous positive reviews on HomeStars. I had a good experience.
The Toronto Clear View website has a tool where you can get a quote based on not only the number of windows but the type of windows as well, making it easy to customize the quote.
Andre did a good job of cleaning the windows and sealing the gutter.
Thanks Andre and Brian
0 of 1 people found this review helpful.
Company Response

Do not hesitate to contact us back if you have any issues whatsoever. We are here to make you happy.

We expect to soon have a New and Improved website with what we expect will be the most advance instant quote system in the business for the public to receive what they want without having to have an onsite visit.