Window & Gutter Cleaning review in Mississauga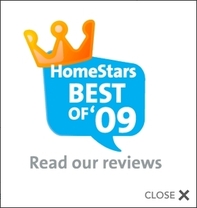 Toronto Clear View Window Cleaning, Inc.
416-751-5546
i was in a bit of a panic as my gutters, if not cleaned, will result in ice damming and in heavy rains, waterfalls. My usual guys did not show up, therefore i searched on Homestars and found Toronto Clear View WIndow Cleaning.
I was impressed with how the area was left after the work was completed. The area was spotless and the bag of debris was folded down and left in an area where it was visible, but not so visible that it could be spotted easily by passerbys. The previous company didn't do as good a job with the debris removal (put it into one of my partially filled bags which i didn't have a problem with, but the mess left around the bag I had issue with).
Company Response

FYI. We were panicking this Fall due to the early onset of below freezing weather. Fortunately, the weather warmed up here and there to allow our backlog to get caught up. We are happy we were able to help you and happy that you were happy with the results. ;-)