Electricians review in Toronto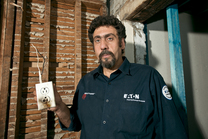 Solutions Electrical
905-790-1114
19 Kenview Blvd. Unit 38
Brampton
ON
L6T 5W4
CANADA
What a great company. Joe arrived to look at the work and give me quote. He followed up with me a week later, answered all my questions and we booked an appointment.
Dave and Daniel showed up on time, polite and tidy and reviewed with me the work to be done.
At the end of the day, my basement was cleaned, any old holes were cemented, and the new panel was professionally done...they also fixed my side gate and got me a Tim Hortons coffee (no charge). Thanks Guys...
Company Response

Thank You for your wonderful comments, It must have been their pleasure to work in your home, therefore I am just wondering why I did not get a coffee from Dave and Daniel since I set it all up? Thank again