Pest & Animal Control review in Markham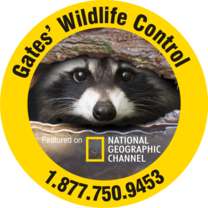 AAA Gates Wildlife Control
8777509453
We have 10 mobile offices that will arrive at your home at a time that is convenient to you. We will provide you with a no obligation free on-site written estimate. MONEY BACK GUARANTEE!
ON
CANADA
This happened in end of June, I still have raccoon nightmare for weeks after it's gone. Raccoon broken into my attics on a Friday, we were clueless about the noise and it's pretty scary. Andrea returned my call on Saturday morning at 9am, she explained to me that I can do a test to try to determine the type of animal up there. Initial appointment for an inspection was scheduled on Thursday. We were quite sure it was a raccoon after a day or two, the noise was annoying and we felt very uncomfortable especially the noise it just above our bed. We had 2 sleepless nights, I had to call Gates again to reschedule for the soonest available appointment. I am very thankful for Andrea to quickly set up a Tuesday appointment. I am very appreciate Brad and his team (sorry I didn't get the strong and beautiful lady's name) could come promptly to our rescue. They set up a one-way door for the raccoon to get out. They screen all entries. They patiently explained everything to us and our neighbour, since we lived in a semi-detached, our properties will be more secure if we both do screening to all entries. They came back 2 days later to remove the one-way door and secure the area. We certainly learned a lot from this experience! We are glad we found AAA Gates' Wildlife Control, we are very happy with their response and service, will definitely recommend AAA Gates' Wildlife Control!
Company Response

Hello Winnie, thank you very much for writing such a kind review and for any future referrals you may send our way. I appreciate you taking the time to praise on our work as well as for complimenting Andrea. Brad Gates, B.Sc. Owner / President - Awarded HomeStars Best Of 2015, 2016, 2017 & 2018.