Electricians review in Whitby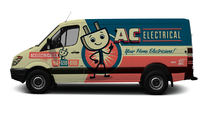 AC Electrical Contractors Ltd.
416-698-8100
251 Raleigh Avenue
Toronto
ON
M1K 1A5
CANADA
I fully recommend anyone use these electrical services. Michelle was my initial contact, understood all my needs & scheduled a service call the same day. She called me right back to confirm the appt once she found an available electrician. Kyle, the electrician was on time, fixed everything I needed, and took time to explain everything. I'm still waiting to hear back from the other companies I contacted, lol. This is the team I will contact again whenever I have an electrical need.
Company Response

Patrick, thank you for taking the time to share feedback about your experience with our company. Aside from providing our clients with well-rounded, certified and professional electricians, we understand that the customer experience holds a lot of weight in the process as well. And for this; customer service and customer satisfaction are of high priority to us. We are indeed fortunate to have a very dedicated team of electricians and office staff, so thank you for recognizing our efforts – we appreciate it and look forward to serving you again whenever the need arises. Thanks again for choosing AC Electrical.