Moldings / Mouldings review in Whitby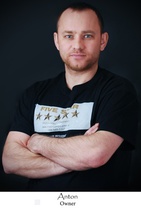 Five Star Moulding Company
647-927-9795
I knew when Anton came out to quote the job that we were in for an exceptional experience. His attention to detail, methodical approach to estimation, explaining options that would add/reduce effort and his advice was absolutely best in class.
He and the crew at Five Star did a spectacular job with the entire house - the highest compliment we can pay, is that subsequent professional contractors came in to do unrelated work, and asked A)who did the trim and B)it was the best work they have ever seen, period. This wasn't isolated feedback.
Our budget didn't allow us to replace window casings, and crown, however we can't wait to welcome Anton and his crew back to our home in 2018 for more work - we will also be recommending him to all friends/family, they are THAT good.
Special thanks to Irena as well, who was always reachable on text, great communication, timely invoicing, superb support.
See you in 2018.
Company Response

Thank you for taking time to write a detailed review for our company.It was a pleasure working with you and we are extremely pleased that you are satisfied with our service, and workmanship.
We strive to be the very best moulding/closet company in the GTA from start to finish and that could only be accomplished with a knowledgeable, skilled, courteous, and caring team.
Thank you for taking the time to review and share your initial experience with us and we look forward to working with you in 2018.