Kitchen Planning & Renovation review in Toronto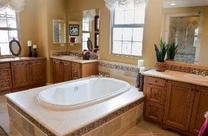 Kitchen And Bath Guys
416 562 2387
87 Thornmount Dr., Unit #24
Toronto
ON
M1B 5S5
CANADA
We had a fantastic experience with Kitchen and Bath Guys. We needed more space in the kitchen which involved removing a load bearing wall and expanding into the dining room. Vince from Kitchen and Bath Guys with Michelle from AYA Kitchen Gallery helped design our dream kitchen. The entire amazing transformation took just under two months! Vince walked us through everything and Adam and Brandon as well as the rest of the team on site were so friendly and knowledgeable about the whole process. The house was always left very clean and safe which was especially important to us as we have young kids.
There were a few issues that were uncovered, as there always are, with moulding in the subfloor and a rotten bay window but they were taken care of with no delays! A couple of the guys even came in on a Sunday to make sure nothing would be held up. They were even able to fix our fence that blew down in a wind storm!
We had such a great experience and are so excited about our new space!