Kitchen Planning & Renovation review in Toronto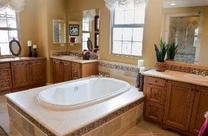 Kitchen and Bath Guys
416 562 2387
87 Thornmount Dr., Unit #24
Toronto
ON
M1B 5S5
CANADA
We had the Kitchen and Bath Guys do a total Bathroom and Powder Room renovation. We had been putting this off for months but when we decided to go ahead, we requested quotes from other contractors, but were immediately impressed by the professional attitude of Vince and Anthony who came on site and gave us their recommendations. We decided to go ahead with them and we are so very happy that we did!
Our bathrooms look gorgeous now! We wish we had found them earlier.
They have a very professional team who are very diligent in their work – especially Adam, who is a master of his craft. Thanks Adam for your excellent work. Thank you also Brenden and Chris, for your invaluable contribution to the project and keeping everything clean and tidy. It is much appreciated.
Anthony and Vince oversaw the project from start to finish and kept us informed of the progress being made. They also took our concerns and preferences into consideration and incorporated them in the works.
I highly recommend The Kitchen and Bath Guys to anyone who is thinking of renovations. We hope to be able to work with them again on a different project next year.
Lillian and George
North York, August, 2016