Basement Renovation review in Brampton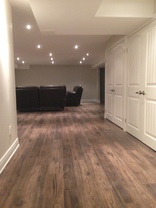 Royal Basements Inc.
416-230-9010
96 Beavervalley Dr.
Brampton
ON
L7A 3R3
CANADA
We've been wanting to renovate our unfinished basement for a long time, and we were looking for a contractor who would provide quality work for a competitive price. We were anxious about making the right choice because we have heard "horror stories" from others who had bad home reno experiences with their contractors - and we didn't want that to happen to us. We actually checked out different companies and Royal Basements, Inc. was the best by far - not only were we impressed by the positive reviews we read, but we appreciated how quick Rene was to respond to our inquiries. He provided a clear and concise, detailed quote that was affordable, and met our needs. When we reviewed the quote and asked for clarity and slight changes, Rene promptly revised the document to make sure it reflected exactly what we wanted. Throughout the experience, Rene and his team were always professional, punctual, and respectful. They finished the project on time and delivered top quality results - exactly what we had hoped for.
The team worked with minimal disruption, and they were very efficient yet precise in their work. They were also very clean and organized and kept the dust and dirt to a minimum - something we as homeowners, truly appreciated (especially with a 4-year old in the house). From the start, Rene made things easy for us by providing all the documents, inspections, etc. that were required. He also provided useful suggestions on design choices and how to save money - and he was very flexible when we asked him for tweaks in the original design plan. We realized during the process, how much of a perfectionist Rene is - he did not miss any detail and he demonstrated such a passion for his work when he re-stained our new stairs in a colour that better matched our wood flooring. We really appreciate Rene's honesty, his kind and humble nature, and most of all...his incredible work ethic. We saw the same diligent work approach in Juan, Alex, and Justin, as well. He and his team felt like family by the end of the process - trustworthy, hardworking guys who love what they do!
We have been raving about Royal Basement Inc. to everyone we know because they have really exceeded our expectations and transformed our basement into a beautiful living space that our family can enjoy for years to come. Thanks again, Rene and team - we will definitely be looking to you again for any home improvement work in future!
Cheers,
The Yarra's (Joe, Riza, and Elias.)
Company Response

Thank you Joe
For this pictures and the reviews