Basement Renovation review in Oakville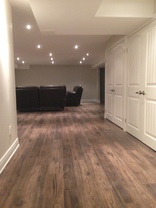 Royal Basements Inc.
416-230-9010
96 Beavervalley Dr.
Brampton
ON
L7A 3R3
CANADA
We purchased a home in the summer and decided we would finish the basement. We wanted a gym, bedroom, bathroom, and kids playroom. I interviewed a few contractors and found that René was the most receptive and helpful of them, and even helped to design the layout of the basement.
We went through the contract and René was pretty open to the changes I made... We actually went through a few iterations, and finally came to an agreement. Actually René was really great about it and even did a few things over and above what we agreed on.
Work started and the guys showed up pretty much every day on time and ready to go. The guys are great and trustworthy and we felt safe with them in our home... We really appreciated all the extra help they did for us, since we fired our bathroom contactor and rene and Juan picked up the work and finished tiling our upstairs bathrooms!
All in all I was very pleased with their work and will hire them again for another project.
The basement turned out great and we love our new gym.
Thank you to Rene, Juan, and the rest of the crew!