Basement Renovation review in YORK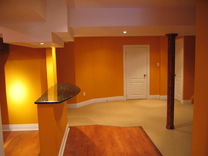 Renovation Experts / Basement Experts
905-884-8585
208-10212 Yonge Street
Richmond Hill
ON
L4C 3B6
CANADA
A basement to smile about!
We desired an open space. One that could fulfill multiple purposes. A man cave, a media room, and at the same time a play area for the kids and STORAGE. Plus we needed a bathroom that we could be proud of and not embarrassed to send our guests to. One that had a wonderful shower we could enjoy (free of bath toys that filled our family bathroom upstairs).And last we needed a functional laundry room in a nice space that didn't feel like a scary mechanical room.
We had a finished basement. Something someone did many years ago. But it was dark and ugly and cut up into many small unusable rooms. It was not a space we enjoyed nor spent much time in.
Enter BASEMENT EXPERTS! While we met with several contractors, we immediately felt comfortable with Stan and knew he was the right guy for the job. He provided a detailed and reasonable quote. He shared pictures of previous projects that helped to make us feel confident he understood what we wanted and would deliver the look we desired. He worked with us on the design and we aligned on a timeline and pay schedule. On the agreed first day of work, the crew arrived on time and with smiles on their faces, ready to get to work!
Throughout the process, the quality and reliability of the entire team was excellent. Ryan (project manager) was helpful , keeping in contact with me on a daily basis, informing me of the next steps and making the extra effort to ensure i was happy with even the small details including door knobs, coat hooks and lighting.
Nush is a quality craftsman -from the tiling to the woodwork to the painting. Nush and his brother delivered outstanding work. Most notably i appreciated the teams willingness to incorporate my design requests along the way and their genuine desire to make the space as amazing as I envisioned. That included assembling and installing barn doors, custom shelving and even a small bar area complete with beer fridge and prep space.
While we encountered a few challenges, such as: 1) flooring that was extremely uneven with a very low ceiling height causing a needed change to our original material choice, and 2) an unexpected 3rd support beam in the middle of the room, the team addressed the issues in a professional manner, identified solutions and allowed us to make the final decision that would work best for our family. In the end we LOVE the look of our floors and Nush did a great job on the posts including a nice edging detail that helped to make them look as though they were part of the original design.
We now have an awesome basement. One i'm excited to spend time in (even if just doing laundry!) and proud to show my friends and family.
Company Response

A really interesting project with many details. Looks great- client and contractor happy!
SB