Ottawa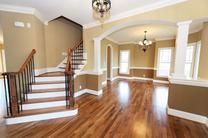 Ottawa General Contractors
(613) 225-9991
1886 Merivale Road, suite 200.
Ottawa
ON
K2G
CANADA
I had a basement flood this past Summer from rain water backup. I hired OGC to do restore my basement, add a bathroom there, move my laundry machines downstairs, and add backwater valves to my sewer.
The estimated time for my work was 4-8 weeks, and they finished in 4 weeks. Everything went exceptionally well. They were so tidy, they cleaned every day after they leave. The level of communication is unheard of, I got a schedule ahead of every week about what is going to be done in the coming week. It is not easy to have renovation at home while living their with kids, but they managed to make everything go very smoothly and we didn't even feel they were there most of the time. All the issues I raised were addressed in a timely fashion. This experience made my change my mind about home renovation, it is not scary or messy at all.
Thanks to my project manager, the team at OGC, and my lovely contractors.