Floor Laying & Refinishing review in Toronto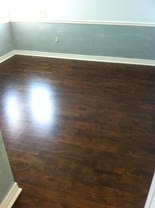 NewRidge Refinishing Group
416-273-4771
From the beginning, dealing with Scott was seamless.
Sebastion came to review the stairs and supplied the quote within 24 hours.
The job was started within 2 weeks
He arrived on time, carefully taped off multiple rooms so that dust from the sanding was minimal.
Job completed within 24 hours.
The work site was cleaned up and left undisturbed.
2 of 2 people found this review helpful.
Company Response

Thank you for taking the time to write a review and choosing our services. It was a pleasure for Sebastian and myself to work with you on this project. Please keep us in mind for a future project and thanks again for choosing our services!

Warmest Regards,
Scott