Kitchen Planning & Renovation review in North York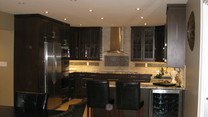 TS KITCHEN PROJECTS
416-898-1142
154 Wildwood Crescent
Toronto
ON
M4L 2K7
CANADA
We hired Traian to assemble and install our Ikea kitchen cabinets and countertop. Most of the design was already set, but he made a few suggestions, all of which we acted on and all of which improved our kitchen. He worked efficiently and with great attention to detail and it shows in the results - everything lines up perfectly, even where the walls don't! The project was on time and on budget, and both the time and the budget were exceptionally reasonable/better than reasonable (the whole thing only took a few days and the price was less than half of the other quote we received). In addition, we purchased under-cabinet LED lighting directly from Traian (his price was much better than the big box stores) and love what it adds to our kitchen. We were very, very pleased with Traian's work and can say, 7 months later, that it has held up very well.
Company Response

Thought you forgot about me. I was wrong. Albert Pine though was right:
"What we do for ourselves dies with us. What we do for others and the world remains and is immortal." Thank you !!