Kitchen Planning & Renovation review in Toronto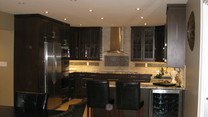 TS KITCHEN PROJECTS
416-898-1142
154 Wildwood Crescent
Toronto
ON
M4L 2K7
CANADA
Traian made my kitchen amazing. The previous homeowners hired a hackjob company that came in and really destroyed what could have been a useable IKEA kitchen. Traian had to fix all of their work and add more cabinets as well as modifications and many many additions. He pretty much had to start from scratch! He made the entire process very easy, from concept to creation it went perfectly. Traian knows IKEA cabinetry inside and out, and I am going to have him eventually work on more cabinets for my home (laundry room, and perhaps more custom work around the fridge). This is my first home, and my first renovation project, and I couldn't have asked for a nicer, more knowledgeable and fair contractor. I would highly recommend his services.
Thanks for everything Traian!
Company Response

Thank you Lauren for the vote of confidence. I am happy that it paid off for you. Thank you for your business.