Kitchen & Bathroom - Cabinets & Design review in Markham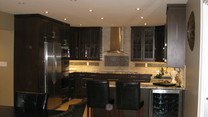 TS KITCHEN PROJECTS
416-898-1142
154 Wildwood Crescent
Toronto
ON
M4L 2K7
CANADA
DO NOT plan or install an IKEA kitchen without TS Kitchen Projects! Traian made our very inexpensive IKEA kitchen (Liljestad - 15% sale) look custom - and customized it perfectly to our needs. First, he took our online plans, and made some insightful suggestions. Then he came on-site, and planned more practical changes - including things like hinge upgrades (which don't cost anymore than the stock ones from Ikea), and banding (if you haven't noticed yet, birch coloured cabinets and dark cabinet doors leave an ugly birch gap in-between cabinets - no matter how many adjustments you make - unless you use TS Kitchen's specially sourced banding). Our installer took great pains to balance the look of the kitchen, adjust cabinets and counter-tops to oddities (like uneven walls, and wonky bulk-heads).
TS Kitchen Project's folks were personable, reliable, and trustworthy. The quote was reasonable, and they stuck to it to the penny.
Make sure to talk to TS Kitchen Projects about your back-splash tiles... we found out after the fact that we could have saved money (and time) by getting colour-matched tiles from TS Kitchen Projects.
We were very impressed, and have already recommended TS Kitchen Projects to our friends and family!
Company Response

Thank you for choosing us for your kitchen renovation. It was a pleasure to work with you. All the best. Traian