Kitchen & Bathroom - Cabinets & Design review in Toronto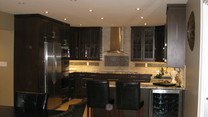 TS KITCHEN PROJECTS
416-898-1142
154 Wildwood Crescent
Toronto
ON
M4L 2K7
CANADA
We have been working on the planning stages of our kitchen for many months. With all of the cabinetry and finishes picked out we began selecting contractors to perform the various aspects of labour.
Traian was a pleasure to work with throughout the project. We contacted Traian after spending many hours designing our kitchen using the Ikea software. Traian had severall useful suggestions, during intial consultation, about how to deal with a tricky sink situation.
Traian produced a budget and timeline which he followed. Traian was able to work with any unexpected problems and suggest solutions. His attention to detail and work shows pride and professionalism. He left a clean work environment at the end of everyday and treated our time and house with respect.
I would use Traian in future and would reccomend him to anyone looking for a quality Ikea installation or cabinet design/layout ideas.
Company Response

I am happy everything worked out for you.Thank you for your business.