Port Coquitlam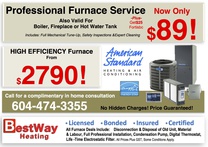 Best Way Heating
604-474-3355
After trying some of the other heating companies over the years and feeling as though I was being overcharged for work that wasn't necessary I decided to try Bestway. I was not disappointed! They came quickly and diagnosed the problem while explaining everything to me and replaced only what was needed. The best part was that he did not overcharge me as he showed me the invoice for the new part so I knew I wasn't being overcharged like previous companies were doing to me. Thank you so much Bestway for being honest and the being the BEST at what you do !
You are my new furnace/gas guys! Keep up the great and honest work!
HIGHLY RECOMMENDED!!!
Company Response

Thanks a lot for your nice review.
We would be happy to be at your service again.