Kitchen Planning & Renovation review in Toronto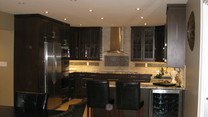 TS KITCHEN PROJECTS
416-898-1142
154 Wildwood Crescent
Toronto
ON
M4L 2K7
CANADA
My Kitchen project was a challenging one in that the space was very small, was on a very tight budget and the 75 year old home had many limitations. With Trian's many years of experience; I felt confident that the utilization of space and the quality of products would be perfect. In addition, creating a more contemporary/traditional design with a wow factor that would look absolutely amazing was accomplished on time and on budget !
Trian is a person to be trusted, he's honest, creative and dedicated. Always current and up-to-date with the latest products and designs and will make sure that his clients are number one with the utmost respect !
Highly recommend Trian !
Company Response

Thank you very much for your review.Always a pleasure to work with you.