Kitchen Planning & Renovation review in Etobicoke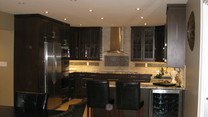 TS KITCHEN PROJECTS
416-898-1142
154 Wildwood Crescent
Toronto
ON
M4L 2K7
CANADA
We recently purchased an Ikea kitchen for an industrial property. As many of you know buying an Ikea Kitchen is only half the fun...installation is a frustrating world of missing parts and problems. Luckily we found an installer named Traian. He was an absolute pleasure to work with. Not only was he friendly but he did amazing work and showed up promptly every day! He was patient and detail orientated and very reasonable for his work. He paid close attention to our needs and made the necessary changes we suggested with a smile! Every door was aligned perfectly, he takes pride in his work and it shows!
Thanks Traian for your hard work, we can't wait to call you again for our next Kitchen installation!
Company Response

I appreciate your review and hope that the little changes to the original design made your kitchen a little bit better looking.