Kitchen & Bathroom - Cabinets & Design review in North York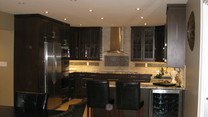 TS KITCHEN PROJECTS
416-898-1142
154 Wildwood Crescent
Toronto
ON
M4L 2K7
CANADA
After many years of contemplating we decided to have our tiny kitchen rebuilt from scratch. We decided to buy an IKEA kitchen cabinetry, combined with additional parts coming from different vendors.
A friend of ours recommended TS Kitchen Projects to assembling it, based on their good experience.
After contacting them, we received a detailed description about what their promises and obligations are which were all reasonable and created a good framework for our contracting.
Traian Stanciu, the owner of the company proved to be very knowledgable about the IKEA cabinetry and helped to optimize our design and purchase order.
Our house was built in the early fifties and the walls are uneven. Traian and the other tradesmen we hired for the project removed all the hurdles so we have now a kitchen that is our pride.
He worked diligently in order to have perfect fitting of the doors and drawers. He was innovative in improving the looks where the IKEA design left things to be desired.
He also installed a very innovative coloured LED lighting system that amuses and impresses our guests and gives a new dimension to the total appearance of the space while saves us in energy.
We recommend this company to all our friends as we are ensured that they will never regret working with TS Kitchen Projects.
Company Response

Dear Peter and Gabriela, I am very pleased that our combined efforts lead to achieving the kitchen you wanted. Thank you for everything.