Kitchen Planning & Renovation review in Vaughan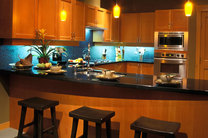 RenoWOW!
4169370969
Toronto
ON
M5A 1S2
CANADA
Sam was very nice. The Counter Top installed had some sort of chemical reaction and stained on one part. Sam responded quickly to our concerns and made an appointment for the vendor to visit our home to look at the problem and help find a solution. Unfortunately a solution could not be found and nothing further than having the entire counter replaced would remedy this. Either way Sam's response was appreciated. We also expressed concerns regarding the sink staining and scratching rather quickly after use. Sam again responded to our concerns quickly and informed us that any stainless steel sink would have wear and tear from cutlery etc. hitting the sink. Later when we moved our fridge there was a huge chunk of grout on the ground that was just left there. Overall Sam's quick response to our concerns and humble response to our review has shown us a greater customer service then expected. We believe that Sam will diligently work to always achieve for better and to do better each time.
1 of 1 people found this review helpful.
Company Response

Learning you are dissatisfied with our products/services is troubling. It is my understanding that the counter top vendor has been unable to confirm an appointment with you. Apparently many attempts/calls/messages have been left without avail. One of the benefits of using Quartz is that the material is very hard and the surface is resistant to everyday stains, heat scars and other scratches, etc. When you contacted me about your concern that the top was not sparkling -- shining (your words) like a mirror, I immediately notified the vendor and requested an ASAP (technician) site visit to look at it and provide the necessary remedy . Regarding your high style, deep bowl under mounted sink.... all I can reiterate is that "highly polished" stainless steel sinks will lose it's factory lustre almost immediately after initial use (((: Plus all of these products are susceptible to fine scratches/abrashion from every day use of cutlery, etc. I'm sorry for not following up to ensure that service was completed to your satisfaction. I do not expect our clients to have to tidy/clean up behind us. The poor/low review you have posted will serve a lesson and it will smart for sure. To this end, I will continue to improve on my follow-up tasks to ensure good clients like you can depend on us.

I wish you continued enjoyment of your new kitchen. Perhaps by providing this detailed explanation you may find a way to reconsider your review???

Sam and the renoWOW! team