Kitchen & Bathroom - Cabinets & Design review in Mississauga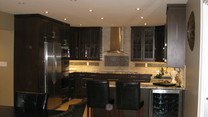 TS KITCHEN PROJECTS
416-898-1142
154 Wildwood Crescent
Toronto
ON
M4L 2K7
CANADA
I can't speak highly enough of the work Traian did for us. We gutted our previous kitchen and bought new cabinetry from Ikea. When looking for a reputable installer we reached out to 4 or 5 companies that had positive reviews, including the official Ikea installer. (The official installers wanted cash to come out and give a quote, so we scratched them off our list straight away!) Of the remaining companies Traian's solid reputation stood out.
He certainly didn't disappoint! He did masterful work, including awesome custom work with our under-cabinet vents, he built out the over-fridge cabinets so they wouldn't be set too far back for our new (and deep) fridge, worked wonders around the sink's plumbing. Last but not least he was a magician when it came to filling in gaps using excess wood from the toe kicks, etc. These last finishing touches brought the final product up a notch, making the difference between having well-installed cabinets versus a beautiful work of art kitchen.
I was amazed how competitve his pricing was when I consider all the extra touches he provided. Traian and Jose were also super-nice, clean and positive. Exceptional talent and craftsmanship and we'll never use anyone else!
1 of 1 people found this review helpful.
Company Response

Thank you for trusting us with your kitchen renovation. I am so happy that it met your approval. Enjoy your new kitchen. All the best.