Kitchen Planning & Renovation review in Toronto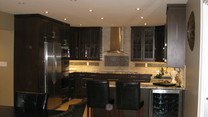 TS KITCHEN PROJECTS
416-898-1142
154 Wildwood Crescent
Toronto
ON
M4L 2K7
CANADA
Our experience with Traian and his team at TS Kitchens was very positive and we recommend them for a kitchen renovation.
Our project had many challenges, particularly when the original schedule was thrown off course due to unforeseen work that had to be done prior to continuing with the kitchen renovation. Traian was able to juggle his other clients and complete the work in our kitchen when the area was ready for cabinetry installation.
Traian's knowledge of Ikea kitchens is excellent and he can quickly point out what is achievable in the space available for your project. His ability to customize "standard" cabinetry with innovative features to suit our kitchen requirements was one of the reasons why we wanted to work with him and it proved to be the correct decision. We are very happy with the quality of the work, attention to detail and overall functionality of the new kitchen cabinets.
Company Response

It was a little bit of long haul with the azbestos and what not but we conquered it. I am happy that I could help. Thank you !