Kitchen & Bathroom - Cabinets & Design review in East York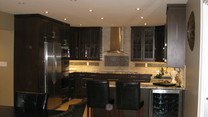 TS KITCHEN PROJECTS
416-898-1142
154 Wildwood Crescent
Toronto
ON
M4L 2K7
CANADA
There are many reasons Trian deserves this 10 start rating. First, his part of the reno (we gutted our entire kitchen: changed the floor, purchased new appliances, painted, etc) was done almost exactly on time, and this despite the difficulty of having to adjust the cabinets for uneven walls (our house is in a 'mature' neighborhood in Toronto, and is over a hundred years old). Second, he made the planning easy by coming to our house twice for a consultation (he was the first person we saw - we wanted to do our homework and see a few more providers before we finally went back to him), and he patiently listened to our wish list and did the best he could to accommodate our ideas (not easy, with our very small kitchen). He gave us advice when we asked for it, and when some unexpected issues came up, found solutions that worked. He was cost-conscious and saved us a few hundred dollars by being careful and efficient with his use of the Ikea materials, and above all, he was very pleasant and a pleasure to deal with.
TS Kitchens specializes in customizing and installing Ikea kitchens and Ikea, as we unfortunately discovered, is an absolute nightmare to deal with from a customer service perspective. While I'm most people know this already, our past experience with Ikea was limited to buying a few pieces of furniture. Kitchen design and installation takes Ikea's ineptitude in Customer Service to a whole new level. Trian had printed out an itemized list for us to take to the store so they could simply key in the items and deliver them to us. This alone took over three hours, most of which were spent waiting for someone to attend to us. I can't imagine how much longer it would have taken without Trian's (very detailed) list. Several of the items Ikea delivered were the wrong ones (or, they simply didn't deliver them at all). Trian went back to Ikea for us to exchange the wrong items, and managed to find us the missing pieces - this alone makes his design fee well worth it.
If you like the ultra-modern, Euro-styling of Ikea kitchens but are worried about making your kitchen look as good as Ikea makes theirs look in their showroom (or better!), I would recommend TS Kitchens. If Trian is a little slow to respond to phone calls don't worry - he's THAT busy!
Company Response

Traian finally got out of the busy for a second and wanted to thank you for your business and your review. Thank you for everything !