Scarborough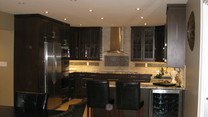 TS KITCHEN PROJECTS
416-898-1142
154 Wildwood Crescent
Toronto
ON
M4L 2K7
CANADA
I am a renovation contractor with thirty years of experience working in the Beaches area. Over that time I have assembled a list of skilled tradespeople that I can count on to do exceptional work, think outside the box and solve the problems that always arise when working on older homes. I am happy to add Traian to that list.
I have high standards and from our first meeting to review the design until the last hinge was adjusted he exceeded my expectations. His encyclopedic knowledge of the Ikea system allowed him to offer many suggestions to improve the look and functionality of the design. During the build his work was of high standard and he often used different Ikea components in creative ways to achieve our design goals.When a stock cabinet would not fit over the fridge he modified it and used a drawer front for a door. The end result was a perfect solution to the problem and the client as very pleased.
Traian proved to be a knowledgable, skilled, creative tradesman with an eye for detail and the ablilty to problem solve.
I would highly recommend Traian.
Company Response

Would always like to work with you. Great minds think alike.