Kitchen Planning & Renovation review in Toronto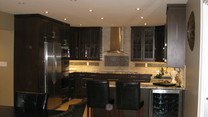 TS KITCHEN PROJECTS
416-898-1142
154 Wildwood Crescent
Toronto
ON
M4L 2K7
CANADA
Working with Traian and his team was a pleasure. They really know their stuff. He provided thoughtful suggestions and even pointed a few potential mini-disasters (door hitting the stove constantly) which our friends at IKEA didn't point. He provided several value added services, like getting us hinges so doors wouldn't hit the other appliances, buying the right size cabinet door while he was at IKEA. As well as adding in an additional shelf at no extra cost (I mentioned it in passing and next day it was there!).
Traian and his team were prompt and very respectful. The price was extremely good value compared to other companies.
In hindsight, I would probably have brought Traian in early to the picture e.g. before I actually bought the kitchen, in order to get his advice and experience of what works and what doesn't, and how to maximize the space of our kitchen better.
We would recommend Traian and his team.
Company Response

Thank you for your business and your review. Enjoy your new kitchen !