Kitchen Planning & Renovation review in Toronto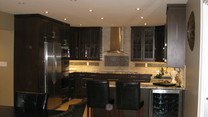 TS KITCHEN PROJECTS
416-898-1142
154 Wildwood Crescent
Toronto
ON
M4L 2K7
CANADA
We are so happy with the kitchen that Traian and his team built for us. From our initial discussions to the final product, Traian was there to provide his input and guidance. This dude knows every single thing about IKEA kitchens - it's shocking, but that's what you want, right?
We also used other tradespeople on his recommendation, namely Derrick - the electrician and Sorin - the handyman.
They too were professional and took great attention to detail.
We're really pleased with our results and would use Traian again.
Note, Traian is a unique person with a peculiar sense of humour. While a little eccentric, trust in his ability to produce results.